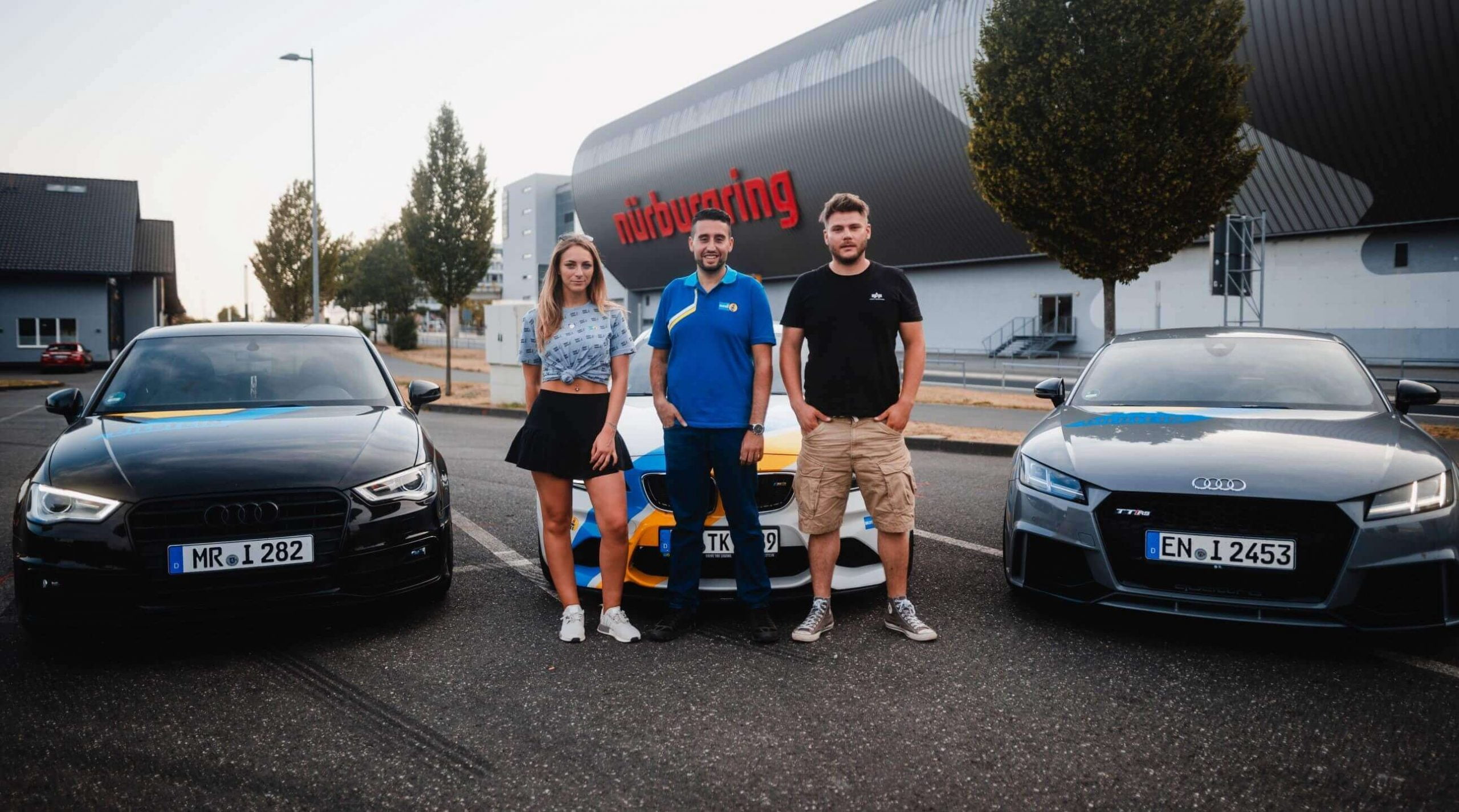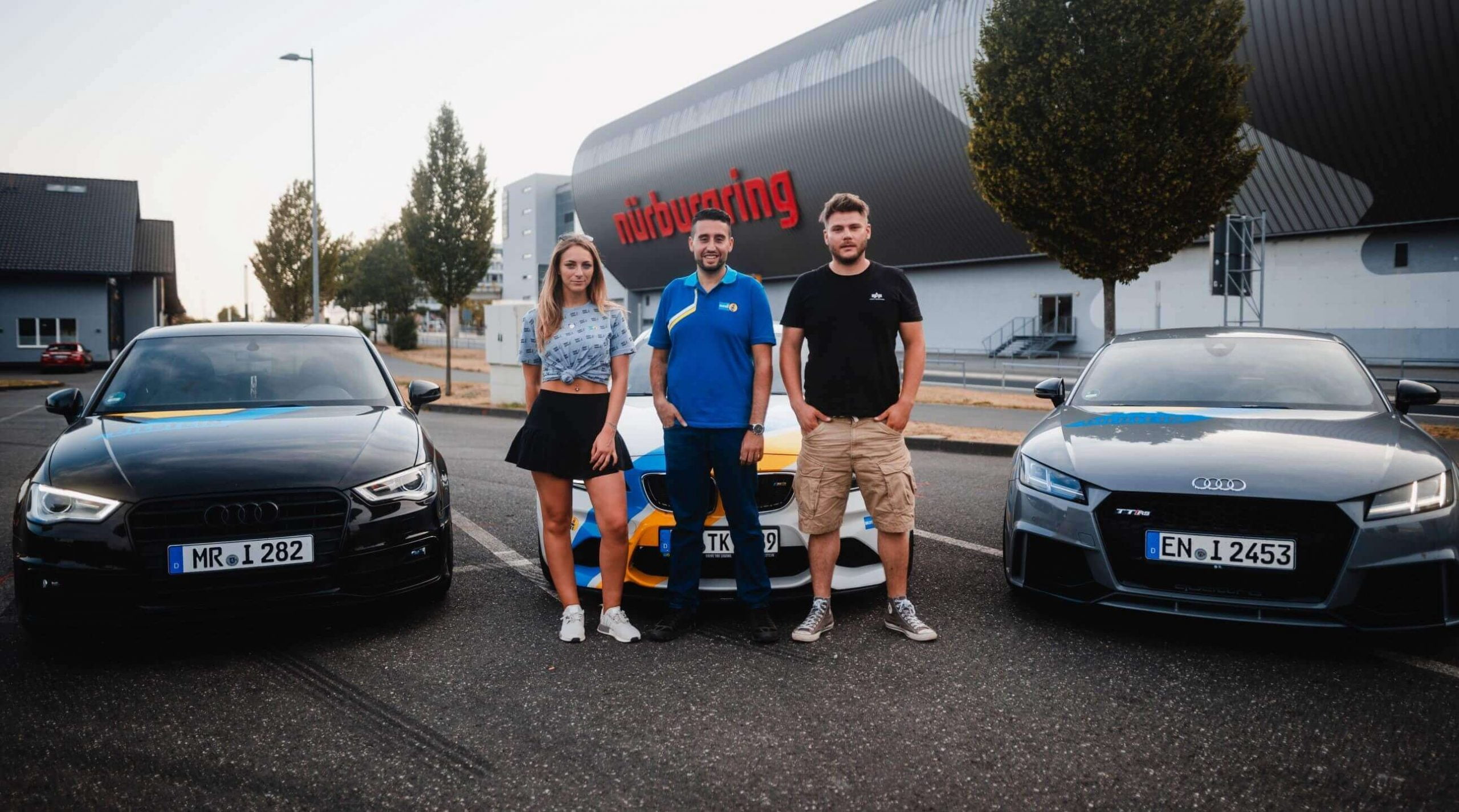 "An experience I'll never forget!"
Behind the scenes at Black Falcon: New BILSTEIN suspensions for the winners of our #BILSTEINCrew campaign
Thursday morning at the Nurburgring business park. The first appointment at Black Falcon is just a stone's throw away from Döttinger Höhe, the cult race track. Two Audis with BILSTEIN livery enter the courtyard of the successful racing team. Joint development and test drives of the two partners on the Nordschleife? No. Or rather: Not quite.
Because Ina in the black Audi A3 and Tobi in the matte grey Audi TT RS won the #BILSTEINCrew competition. Both spent their time together since the day before. First, Ina and Tobi received a brand-new livery design in BILSTEIN colours from EightEleven Design in Erftstadt. On the agenda today is no less than the installation of new suspensions for the two. Not at any old place, but in the hallowed halls of Black Falcon!
They are warmly welcomed by Alex Böhm, founder and team leader of Black Falcon.
As one of the first official BILSTEIN suspension experts, the motorsport experienced managing director and his company share our philosophy: "We believe that a top suspension must also be installed and tuned by absolute experts," Alex is convinced. That's why our BILSTEIN specialists Marco Kunert and Daniel Boehnke, together with Black Falcon race mechanics, will be installing the BILSTEIN suspensions today.
First up is Tobi's Audi TT RS.
The 400 HP with four wheel drive is a serious sports car even in its standard version. Nevertheless, Tobi needs more dynamic performance. "When I have time, I try to drive as much race track as I can. We are a small community of people who, like me, have petrol in our blood," Tobi smiles. Together they mostly go to the Nurburgring Nordschleife. "However, we regularly check all possible routes," says Tobi.
To ensure stable braking performance, the Audi driver has already installed a high-performance braking system, among other things. A BILSTEIN Clubsport suspension should take driving on the racetrack to a new level. Alexander Rölleke, race mechanic at Black Falcon, explains: "The main differences in the suspension are the tighter damper curve and a lower centre of gravity. This gives us less rolling, much less movement in the vehicle and less axle load shift to the front axle when braking. I also have the advantage of being able to adjust the tension and compression of the suspension to how I would like it to be."
Ina is also enthusiastic about fast cars. But appearance is at the top of her list.
"I'm more of a tuner," says Ina. "I visit all the big tuning meetings." She's only had the Audi A3 since March, but an optimisation is almost overdue. Ina's Audi A3 today receives a brand new BILSTEIN B16 suspension. Ina has precise ideas about her desired suspension: "For me, a suspension does not necessarily need to lower the vehicle, but it should be comfortable".
It's immediately obvious that Ina and Tobi, with their set of respective wheels, are in the best hands with Black Falcon. With experienced mechanics, every slight of hand is perfect. The old springs and dampers are removed and the new suspensions installed habitually and with confidence.
After a few hours and the obligatory wheel alignment with the motorsport tools from Black Falcon, the two Audis are ready to see action – and significantly lower than before. For Ina and Tobi, it's now time to go on the country road and the Nordschleife together with our BILSTEIN specialists and our camera team to test out the modifications.
After the test drives, Ina states: "The difference is really enormous. There are video recordings of me where I almost cry," Ina laughs. And Tobi is also enthusiastic: "There is no understeering anymore", says the track day driver about the top-heavy TT. "I'm surprised at how fast the car is on the track now."
There is general enthusiasm not only for the performance of their optimised Audis. The entire event was also a great success for the two car fans. "I've never been in a workshop this big before," confesses Ina. "I found it very exciting to take a look behind the scenes of a racing team. You'll never get a chance like that again". Tobi sees it similarly: "For me as a motor sports enthusiast, it couldn't really be more awesome. I was relatively quiet and tried to absorb it all. It was great that they let me assist," Tobi says happily. "It was an experience I'll never forget!"
Suspension refresh in the green hell | Behind the scenes at Black Falcon (EN)