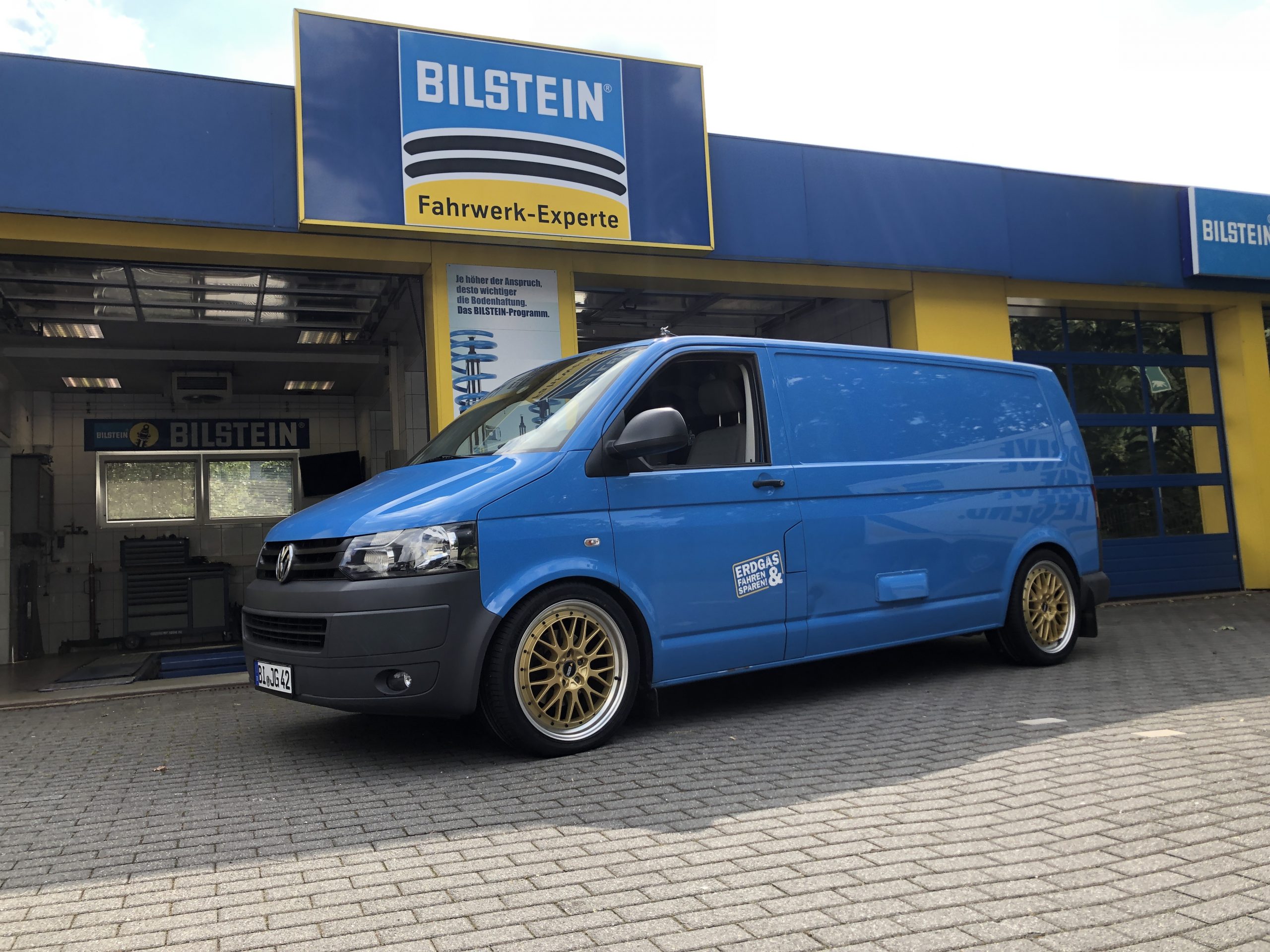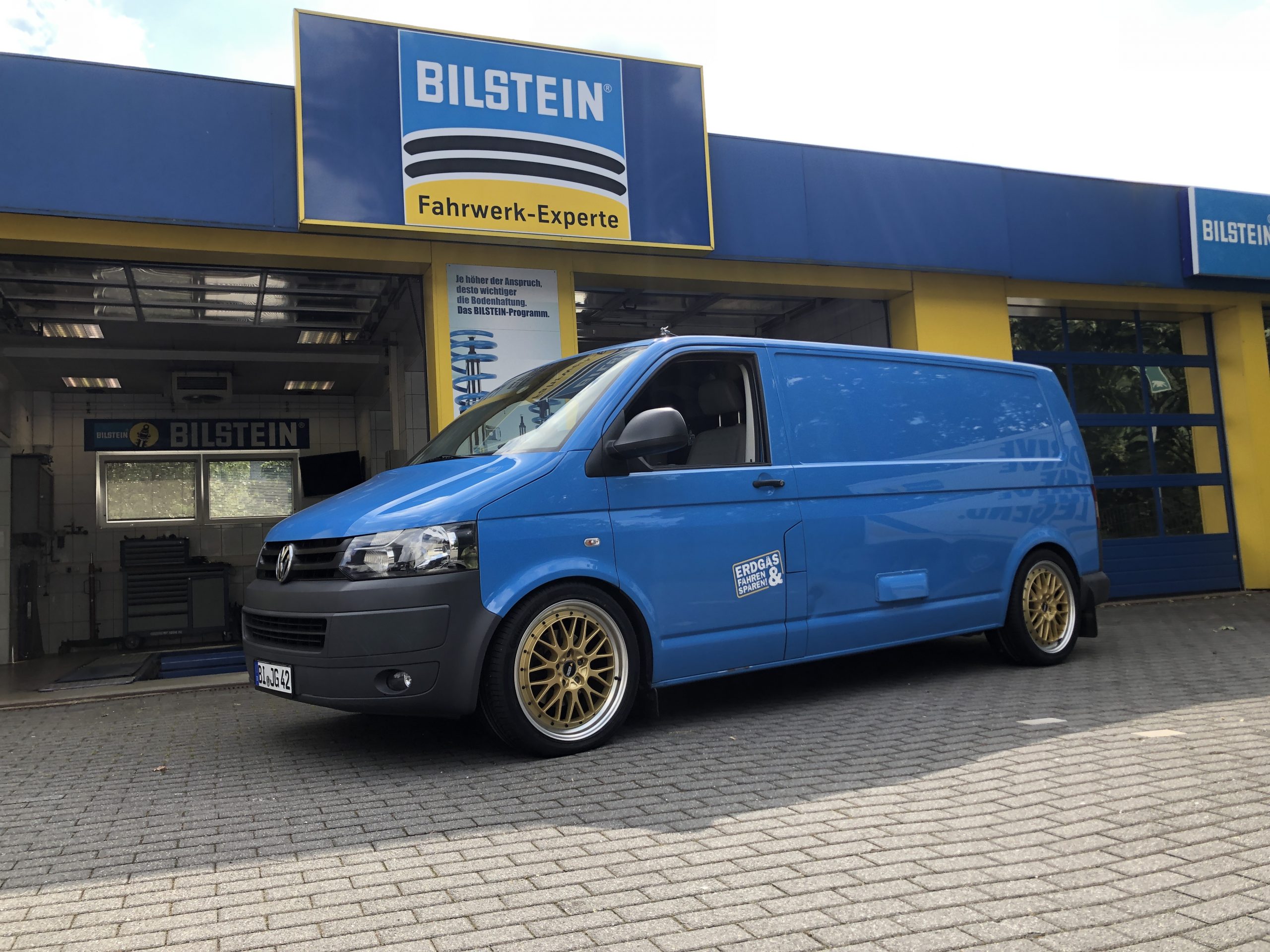 BILSTEIN B14 coilover suspension for the VW T5
German youtuber Jan Gleitsmann was looking for a coilover suspension for the VW T5 – and chose the BILSTEIN B14.
Jan Gleitsmann is one of the automotive youtubers with the largest reach in Germany. Over 230,000 subscribers follow him on his two channels. His videos have been viewed a total of 120 million times. For his car reviews Jan Gleitsmann always drives the newest cars. And yet Jan has a strong preference for older and rather unusual vehicles. One of his favorite pieces: An old Chevrolet Suburban, a V8 monster, over two meters high and five and a half meters long. In its shadow in Jan's hall at the Bilster Berg test and race track: A not so spectacular VW T5. But with the right modifications, the commercial vehicle was to become a real eye-catcher.
Coilover suspension for the VW T5
When Jan arrives at our garage in Ennepetal, a rather simple VW T5 is actually rolling along. Not very sexy and as high as a bus. But at least it's in the right color – BILSTEIN blue. Today, the T5 is to be given a manageable but effective tuning: A new coilover suspension system, new rims and sporty tires.
It had to be a BILSTEIN B14 coilover suspension
After the car expert had done extensive research in the relevant Bulli forums, one thing was clear: it had to be a BILSTEIN B14 coilover suspension for his T5. "Many people have installed this suspension. And they are happy because it is a successful bridge between comfort and sportiness," explains Jan.
Following the initial evaluation and test drive, our technician Daniel Boehnke gets down to work. Measuring and then off to the hydraulic lift. Take out the shock absorbers and put in the BILSTEIN B14 coilover suspension system. And because the old steel rims don't quite suit Jan's taste, they have to make way for the beautiful, gold-polished 20-inch Twin Monotube project rims.
Heavy lowering – with high comfort
Once the wheel alignment is complete, the T5 rolls back into the sunlight – and is hardly recognizable. With the coilover suspension for the VW T5, it stands great on the road, lowering and rims harmonize perfectly. A dream in BILSTEIN blue! Jan can't help smiling. The result seems to be to his taste.
The advantages of the B14 for the VW T5, developed together with Deimann Fahrwerktechnik in Hauenstein, Germany: The coilover suspension for the VW T5 not only ensures a sharp lowering of around 50 millimeters. There are also no structural changes necessary.And also the trailer coupling can still be used. Of course, the chassis is available with an TÜV certificate.
Jan's first test drive with the optimized T5 convinces him completely. "I immediately notice a difference," says Jan happily, "the swaying is gone. It has become more sporty, but I have a lot of residual comfort and I like that."