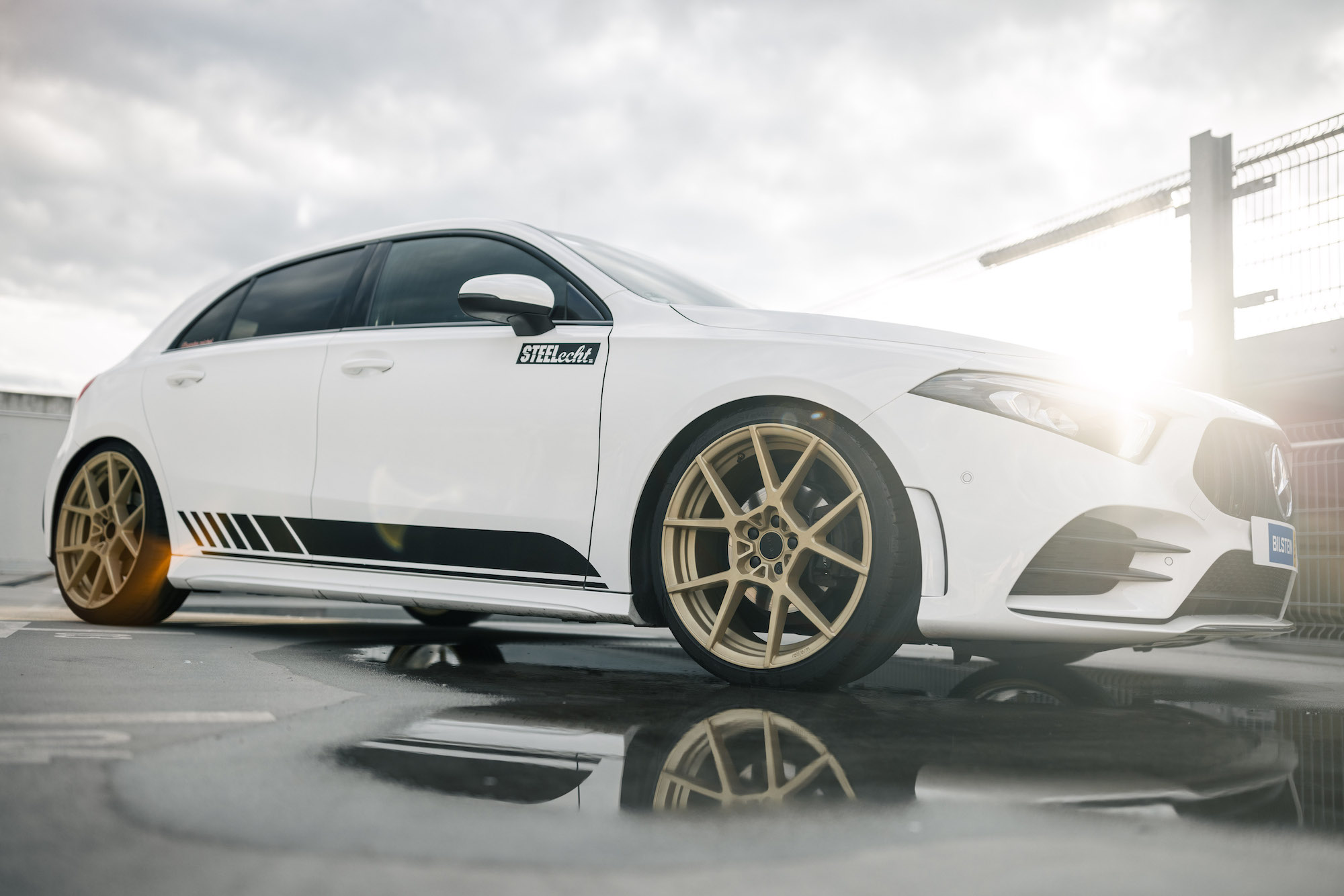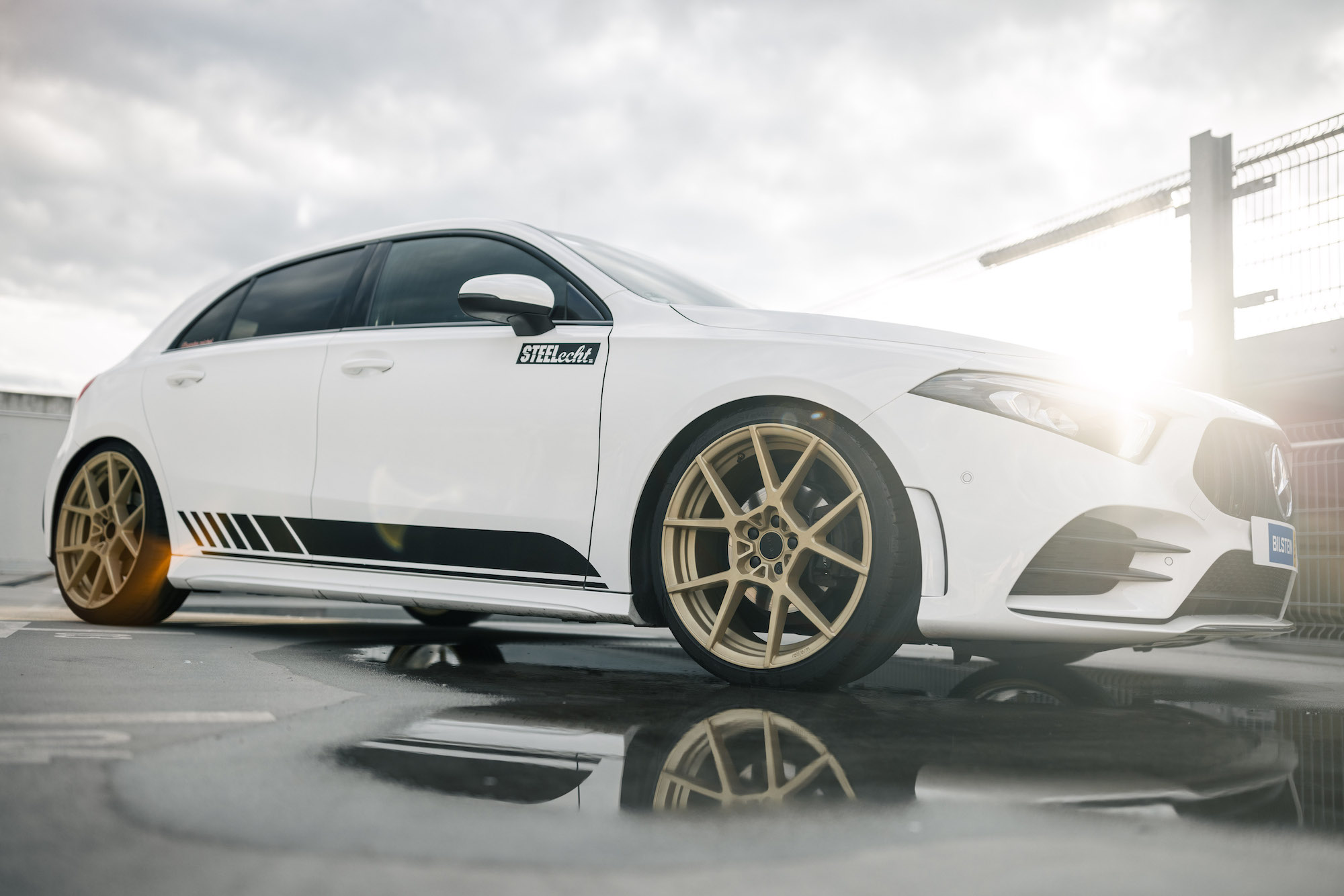 Mercedes-Benz A-Class (W177): Tuning with the BILSTEIN EVO S coil-over suspension
With the A-Class, Mercedes-Benz offers comfort and extras in the compact class that are otherwise only known from the luxury segment. Is the Mercedes A-Class (W177) the best car among the compacts? Quite possibly. But one thing we know for sure. With the BILSTEIN EVO S coil-over suspension, we take the A-Class to a new level, both visually and in terms of driving dynamics!
From 1997, the first generation of the Mercedes-Benz A-Class already combined generous interior space with compact exterior dimensions. From the third generation onwards (W176), the compact model from Stuttgart also had to manage the balancing act between sporty performance and a polished, sophisticated appearance. This is no different with the current generation (W177), which has been on the market since 2018. In fact, expectations have risen even higher. Both the compact saloon and the sedan have become both particularly elegant and exceptionally sporty.
Stylish look, spectacular driving dynamics
And yet there are numerous particularly demanding A-Class drivers who would like to optimise their car even further. And this is where we come in. With our BILSTEIN EVO S coilover suspension, which is now also available for the current A-Class.
With our high-performance coilover suspension, we not only optimise the handling of your Mercedes-Benz A-Class. We also take care of the looks. – And give the A-Class a visual upgrade that is well worth seeing! No: one that has to be seen to be believed!
Because with a lowering range of between 30 and 50 millimetres, our BILSTEIN EVO S offers considerable lowering for the Mercedes-Benz A-Class. Lowering doesn't get any better than this. The tyres and wheel arch fit perfectly and make the A-Class look even sportier.
The BILSTEIN EVO S for the A-Class is also beyond all doubt when it comes to handling characteristics. With our coilover suspension, we give you an even more harmonious driving experience than with your standard suspension. And with the double-tuned damper setting in the BILSTEIN road test, we get even more performance out of the A-Class. The compact Mercedes with BILSTEIN coilover suspension offers a noticeably sportier steering response and absolutely brilliant handling. At the same time, we have placed great emphasis on a shock absorber set-up that is suitable for everyday use and comfortable to drive. Sporty handling and sufficient comfort reserves when you need them – that's the driving experience made by BILSTEIN!
That's what the BILSTEIN EVO S coil-over suspension offers you for your A-Class:
Sporty damper settings for noticeably sporty steering behaviour – with the best possible comfort
A more harmonious, precise driving experience than with your standard chassis
Double-tuned damper setting in the BILSTEIN road test and on the test rig
30 to 50 millimetres lowering: flexible and individual – with threads to spare and a technical component report
Additional corrosion protection through zinc-nickel coating
Find a dealer or workshop in your area
47-295735 – BILSTEIN – EVO S – Find a dealer or workshop in your area
Search now