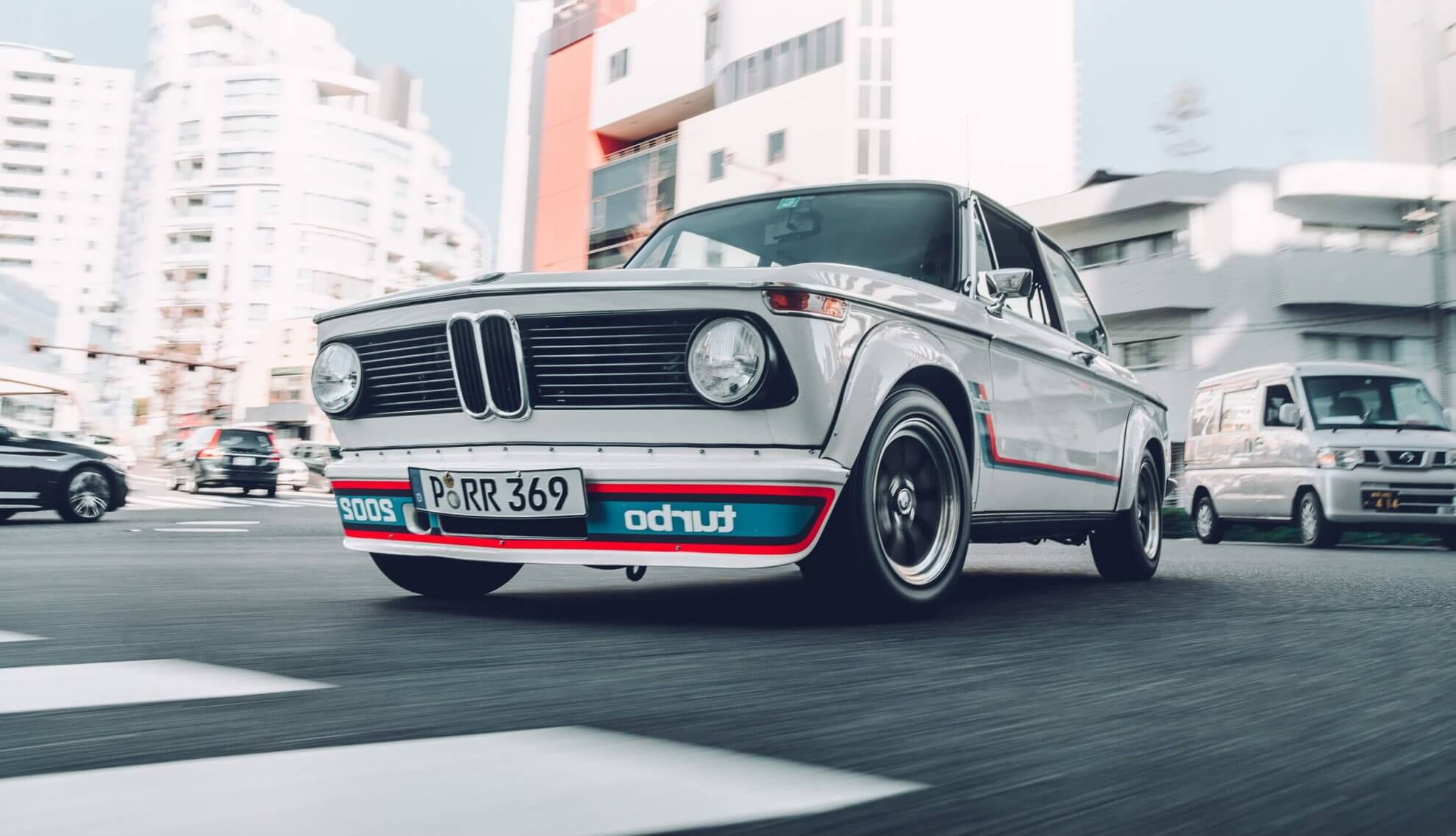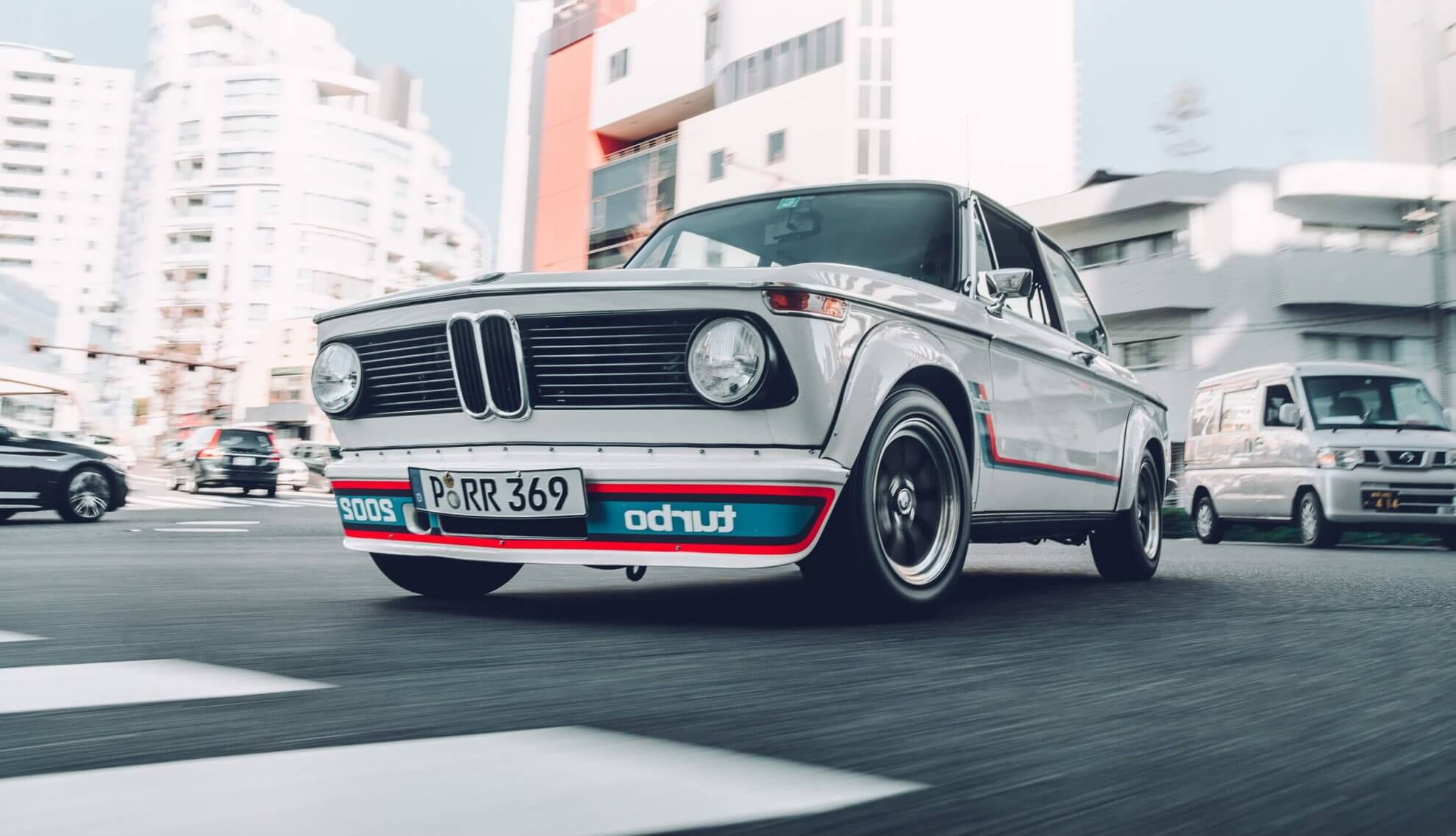 Toshibo Shizu's BMW 2002 Turbo
In recent years the world of turbocharging has taken over the automotive industry. No longer do AMGs get Yank-rivalling V8 displacements; they make do with a more manageable 4.0-litres and twin turbos. Just about every 'hot hatch' runs a 4-cylinder turbo motor and even BMW's M-division uses nothing but forced induction. Why all the turbo madness?
Put simply, the need for downsized engines – and increased fuel efficiency & emissions – is the real reason behind the culture shift. But it wasn't that long ago when turbocharging actually meant performance-enhancing rather than emission-friendly. Our favourite example? The BMW 2002 Turbo.
Big bumpers, multi-colour vinyl and 'Turbo' badges strung across the bodywork. The BMW 2002 Turbo wasn't just the first forced-induction car from Munich; it was the first boosted German production car full stop. Based on the 2002 model launched in the late 60s, BMW lance the big-boy Turbo five years later (1973) with a healthy 170bhp thanks to its KKK-equipped M10 motor. Naturally that jump of power meant the 2002 Turbo also received bigger brakes, an LSD and additional cooling throughout.
Not that you could ever call it subtle. Race-inspired aero saw the 2002 Turbo fitted with massive bolt-on arches, a chin spoiler straight from DTM and now iconic white, blue and red livery. This was all back in the early 70s remember.
Just 1672 examples of the 2002 Turbo were made between 1973 and 1975. Inevitably, a good chunk of those were crashed, and a fair amount have been locked away waiting for values to (inevitably) soar such is the current climate of classic car ownership. But there's still a handful in existence which get used – and used regularly. Who wants to guess what country could harbour such admirable owners…?
Yup, Japan. It seems anything remotely cool and out-there ends up with a dedicated following halfway around the world, and that's absolutely fine with us. Pictured here is Toshio Shizu's immaculate 2002 Turbo – a car he's not only owned for years, but he's continued to develop (and improve) over that time too.
Sitting on RS Watanabe wheels wrapped in Advan semi-slick rubber, Shizu-san's 2002 also benefits from BILSTEIN sport dampers which further improve the grip and ride without compromising its daily drivability. That's an important part for Shizu-san; every year his 2002 Turbo racks up thousands of miles, from local get-togethers with likeminded friends to track days and national meets across Japan.
If, like us, the idea of owning such a cool classic sounds appealing… be warned, prices aren't for the feint hearted. A quick look over CarAndClassic.co.uk yields estimates between £65-85,000 for a good example, with non-turbo models shifting for £30,000+. If you're lucky enough to be in that position however, there's far worse things you could invest your money in.