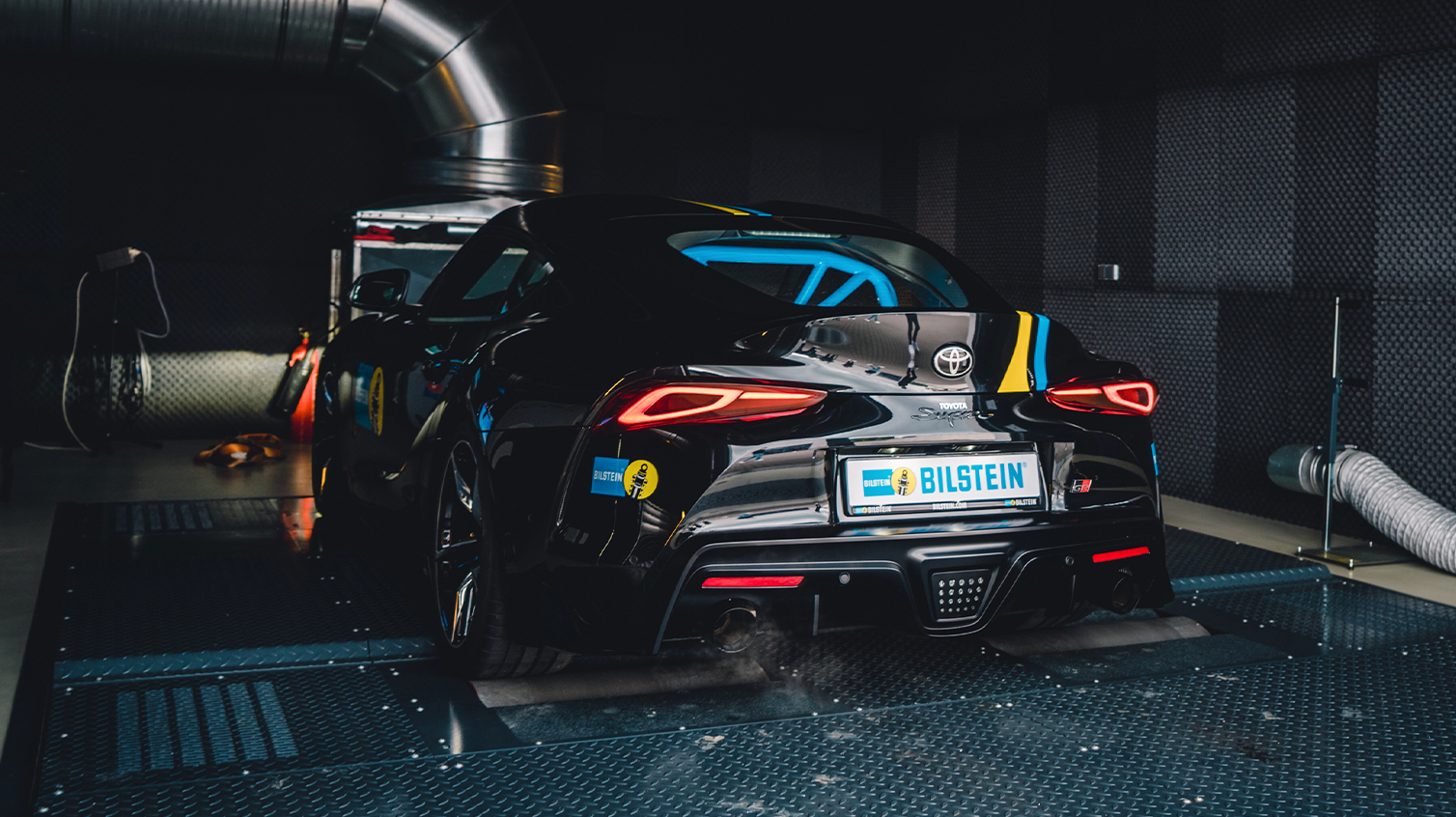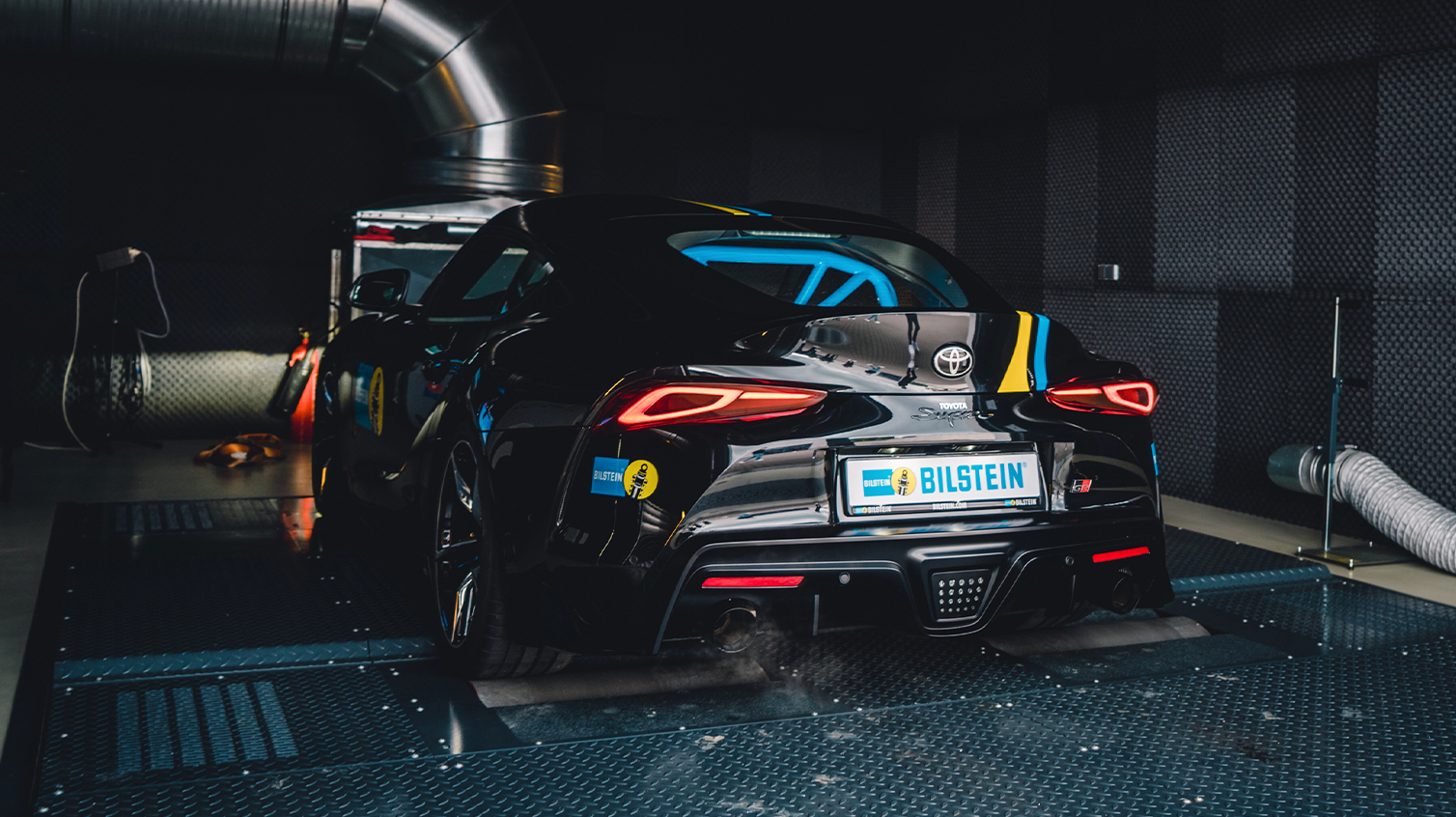 BILSTEIN Track Tool Project Part 2: The first 20 extra hp for the Supra!
In the second part of our Track Tool Tuning Project, we focus on tuning the exhaust system and new rims including semi slicks.
At Lightweight Performance, our BILSTEIN presenter Nico Bastian and Marc Müller, Managing Director of Lightweight Performance, install a new downpipe and a high-performance tuning exhaust system from Lightweight Performance.
More sound and power by tuning the exhaust system
First, a downpipe from HJS is waiting to be installed. It delivers more power and sounds good, too. This also applies to the new exhaust system, whose internal structure differs fundamentally from the standard exhaust. The tuning exhaust system has been optimized in particular in terms of back pressure. Because less back pressure generally means more engine power. Especially in combination with the downpipe, Nico and Marc expect more power and a richer sound.
On the dyno, it quickly becomes clear: Mission accomplished! The BILSTEIN Supra not only sounds much better. There is also a significant increase in performance. In figures: Approximately 20 hp more power and 25 Nm more torque than with the standard system. More power and more torque are now available across the entire rev range. At high engine speeds in particular, the optimized exhaust system records a significant increase in performance. A top result, especially because it was "only" a matter of pure hardware measures. What else is possible with the planned software tuning?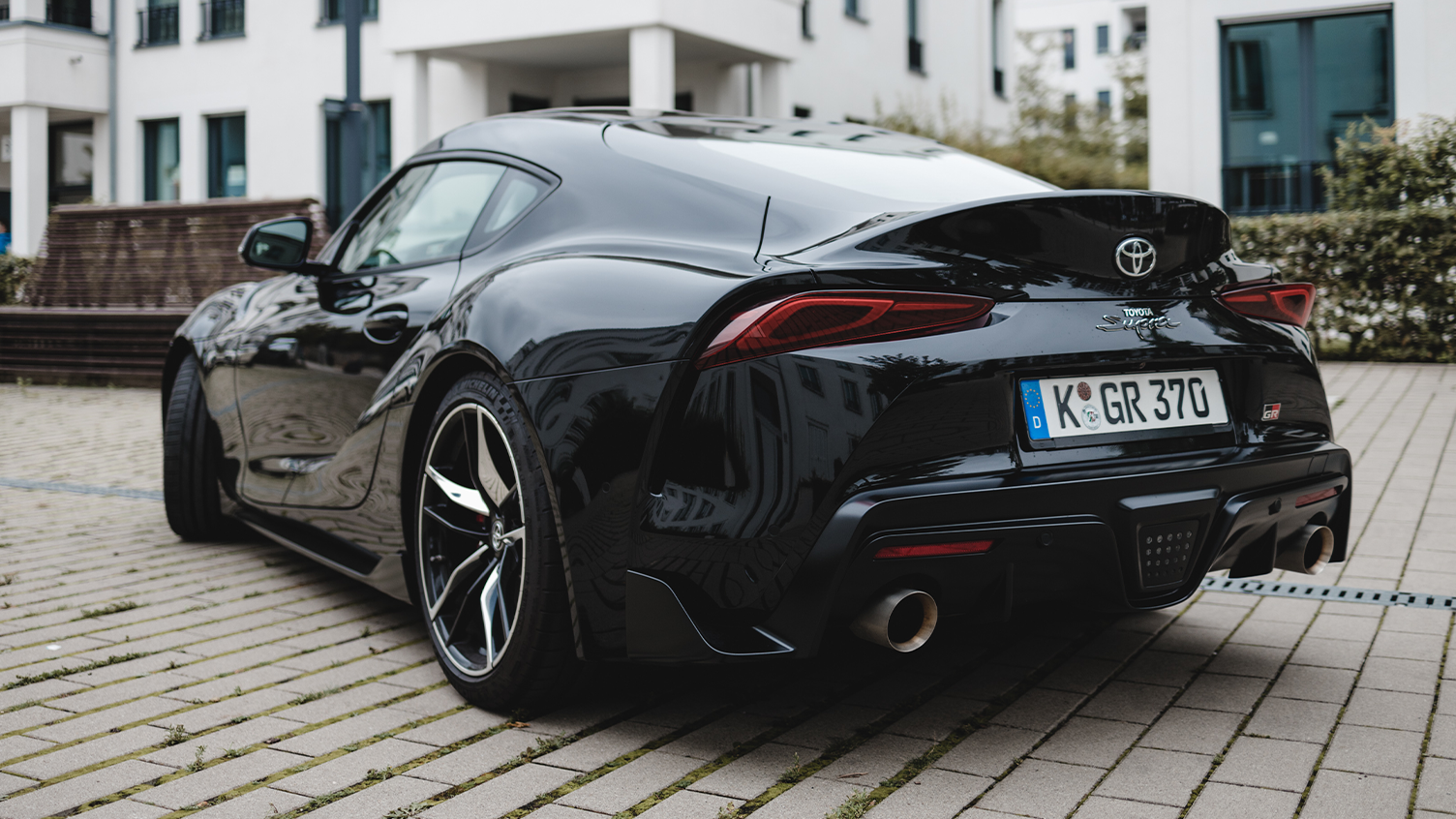 Before
After
From 19 inches to 18 inches: A downgrade?
Then we take care of the rims. For presentations at trade shows and meetings, 20-inch AMP Forged 2002 rims are bolted onto the Supra for a rich visual effect. For track use, we rely on a lightweight wheel set from Protrack Wheels for our Supra track tool. To reduce unsprung weight and develop even more driving dynamics, we switch from standard 19- to 18-inch wheels. The assumed downgrade means a clear advantage. After all, we can now run a higher tire cross section. This gives us more possibilities in later chassis tuning.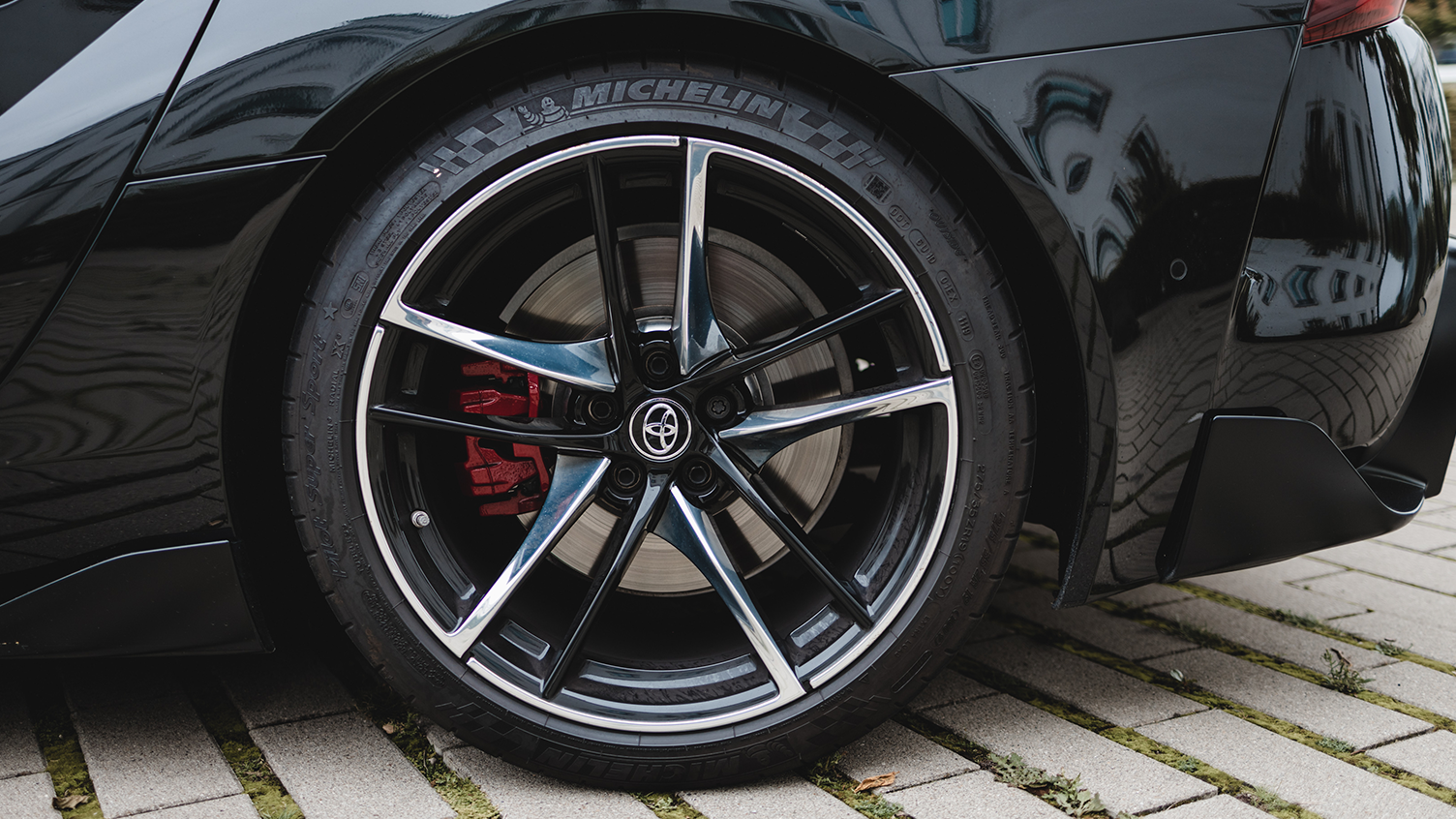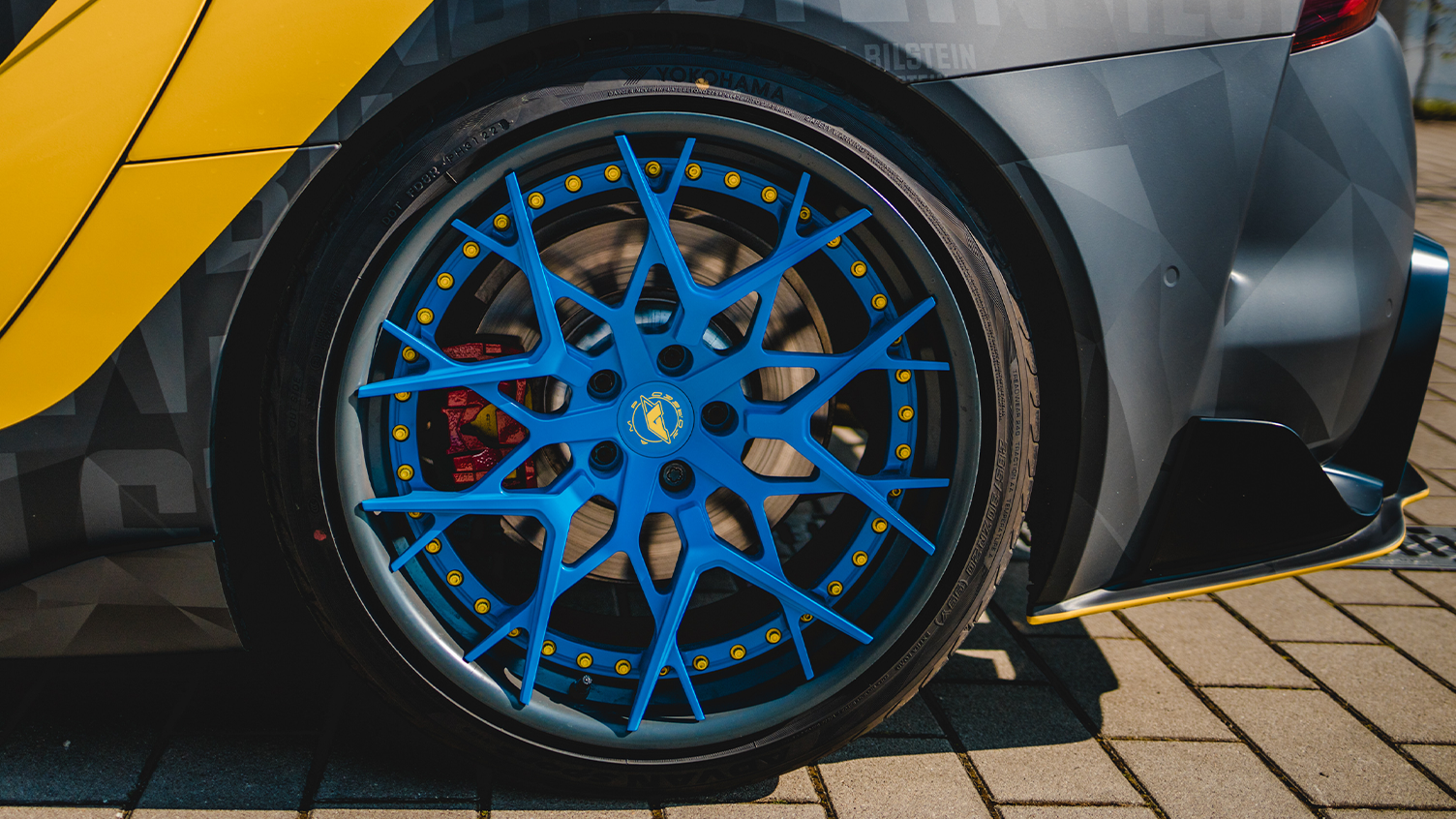 Before
After
The road tires are also out of use as of now. True, the street pads have a lot of tread, which is good for displacing water in road traffic. But because the BILSTEIN Supra is preferably used on the dry track, we need more rubber, more contact patch. In short: more grip. That's why we opted for Yokohama Advan A052 semi slicks.
Video: The first 20 extra hp for the Supra!
At the end of a long day, our presenter and racing driver Nico Bastian can finally drive the pimped Toyota Supra for the first time. The driving experience is already quite different. But there's still more to come when it comes to engine performance!
In the next parts of our track tool tuning project, we will therefore be looking at engine tuning and suspension optimization with the BILSTEIN EVO T1. And last but not least, there will be some visual changes to the Supra in BILSTEIN design. Stay tuned!
Well, did we make you curious?
Then just take a look at our product catalogue to see if there's something for you!
Browse Product Catalog