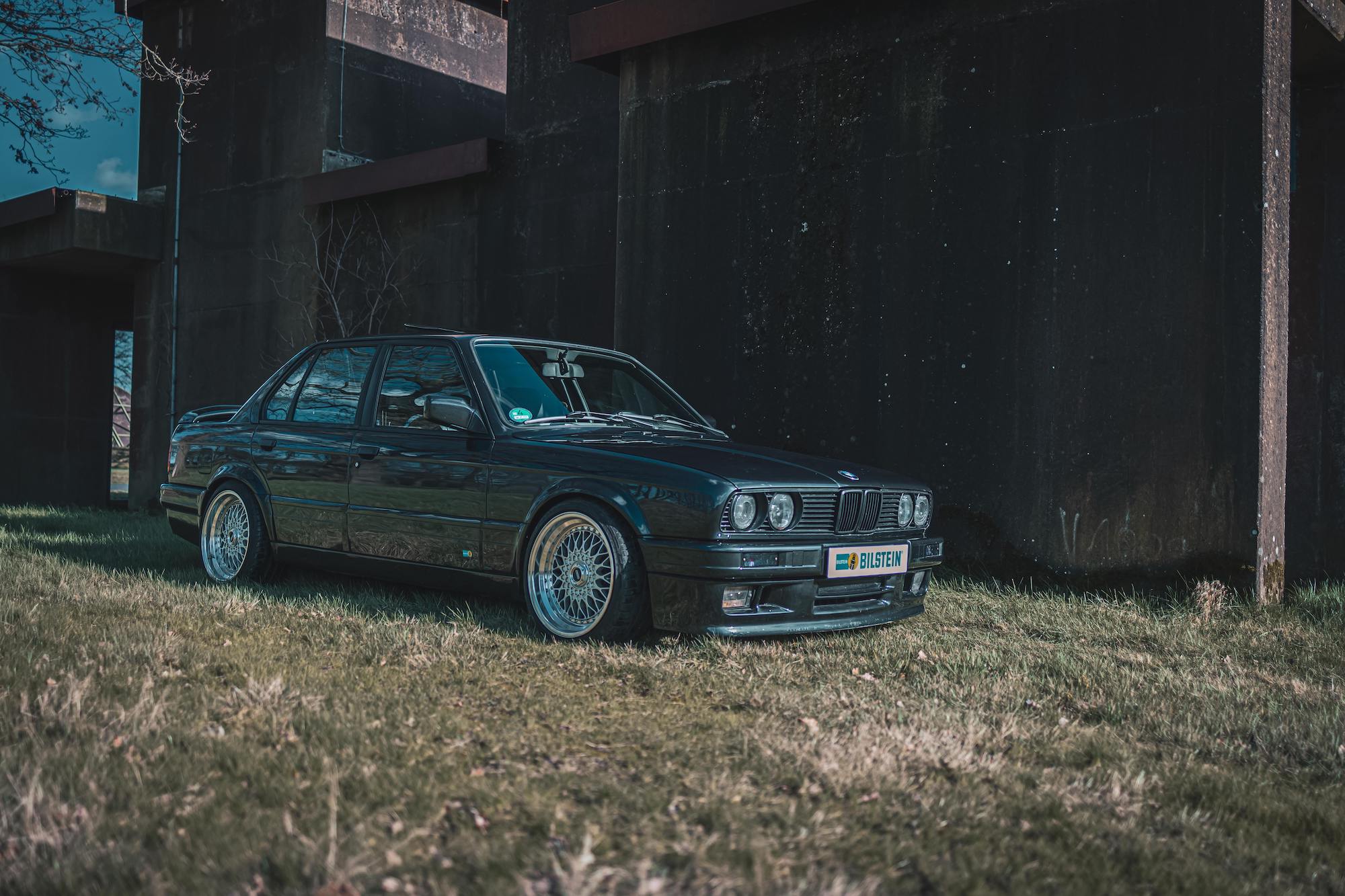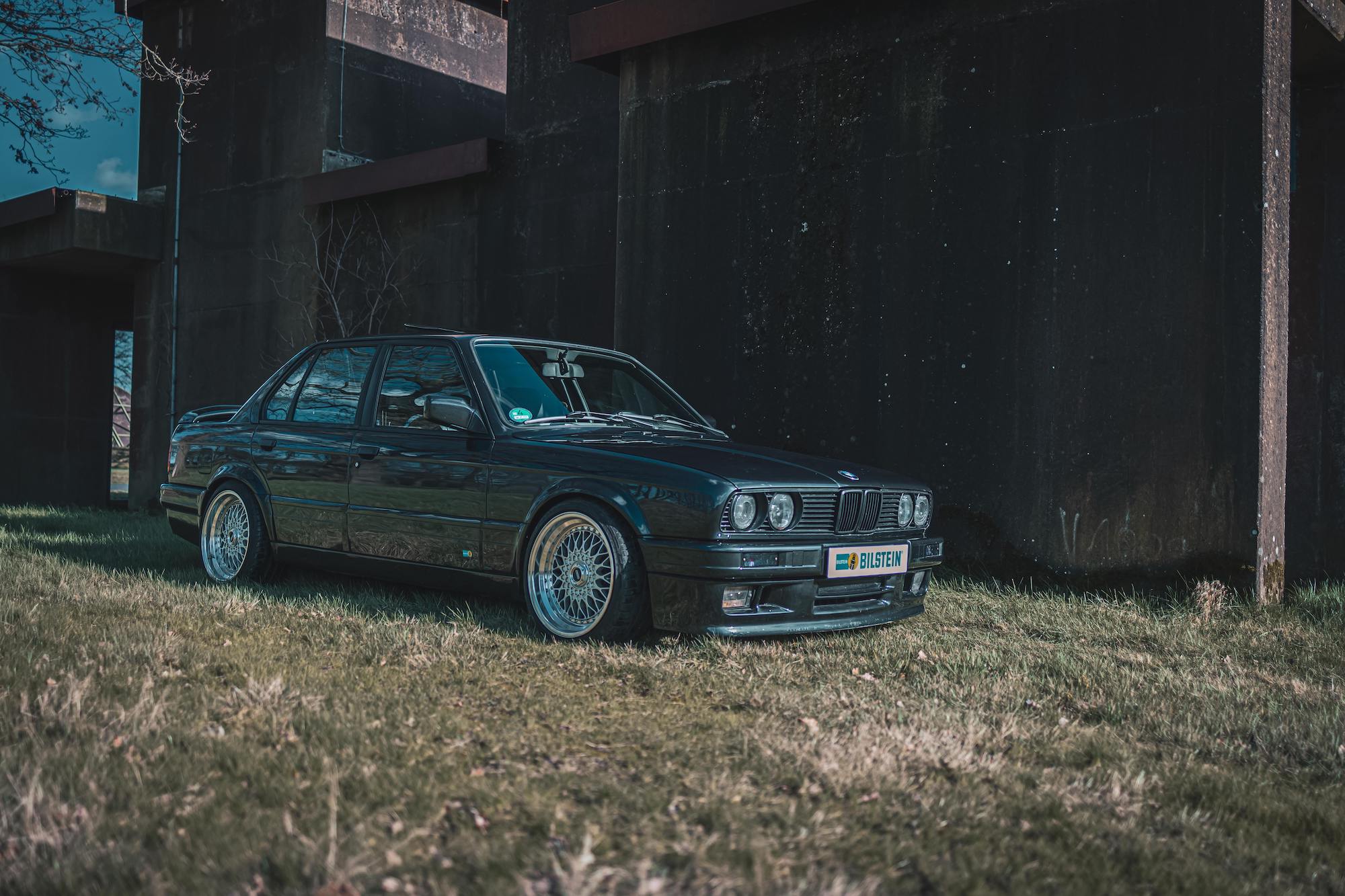 BILSTEIN B12 Pro-Kit: The perfect sports suspension for the BMW E30!
Built between 1982 and 1994, the BMW 3 Series E30 is an absolute automotive classic. It's no surprise that the iconic BMW continues to be celebrated in the tuning scene. Patrick Schotte drives a particularly hot version. The highlights: Engine conversion to six-cylinder, three-piece BBS rims and a high-performance BILSTEIN sports suspension!
Patrick Schotte is a BMW fan. No other way to put it. The industrial mechanic and industrial engineer is especially passionate about the BMW 3 Series E30. Patrick has already owned a total of five E30s. Two years ago, Patrick had the opportunity to grab this rather rare 3 Series. A BMW 325i E30 with M Technik 2 sports package. The works tuning: limited-slip differential and sports transmission, sports suspension and subtle aero.
Patrick's BMW E30: Driving dynamics on M3 level
"That's the kind of thing you want as an E30 freak," reports Patrick, who develops particularly individual solutions at BILSTEIN in the Customized Solutions department (KSW). "After that, there's really only the M3. But the M3 is just too expensive." Indeed, the BMW M3 E30 was a sensation back then and is a wickedly expensive rarity today. No wonder. The sports sedan was the very first M3 in 1986 and came straight from motorsport. To bring his 325i up to M3 level in terms of performance and driving dynamics, Patrick not only invested in an engine rebuild. He also installed a suitable suspension.
"The B12 sport suspension for the BMW E30 works really well"
Under the hood of Patrick's Bimmer today works a 192 hp engine from the BMW 3 Series E36. This means that the E30 does not reach the 200 hp of the BMW M3 four-cylinder engine. But the beautiful sedan does have an inline six-cylinder. When it comes to the suspension, Patrick naturally puts his trust in BILSTEIN. In Patrick's eyes, the B12 Pro kit available for the BMW E30 is the ideal sports suspension for his BMW 3 Series! It not only offers more performance than the standard suspension. It also works more balanced. The right thing for Patrick. "The sports suspension works really well," Patrick says enthusiastically. For me, the BILSTEIN B12 is the perfect long-distance suspension!"
The BILSTEIN B12 lowers the BMW 3 Series E30 by up to 40 millimeters. The sports suspension naturally comes with certificate and is perfectly matched to the vehicle. Especially with the right rims, the stylish Bavarian then really looks best. As a tuning fan, Patrick knows this too. And so he opted for spectacular three-piece BBS wheels. Even an M3 can't look any better…
These are your advantages with the BILSTEIN B12 sports suspension for the BMW E30
More performance and balance than your stock suspension
No rubbing and no installation problems due to constant ground clearance despite lowering
Perfect lowering – easy and quick up to 40mm
of course with parts certificate
Stabilizes the body for more performance and comfort – even on long trips